Three young men from Milan take on San Diego's Italian food scene
By Mia Taylor
SAN DIEGO – By Giacomo Pizzigoni's estimate, San Diego's Italian food scene is about 10 years behind the curve.
"It's somewhere between terrible and mediocre," begins the 27-year-old.
Despite Little Italy's booming culinary community and legendary eateries such as Bencotto Italian Kitchen and Buon Appetito, Pizzigoni stands by his statement. And he has the credentials to back up the comment.
A native of Milan who moved to San Diego about six years ago, as well as a gourmet expert and a sommelier, Pizzigoni just launched an Italian eatery in Pacific Beach with two fellow Milan natives, Andrea Burrone and Luca Salvi.

 Ambrogio 15 began welcoming customers a little more than one week ago and has already developed a substantial following that includes customers who have been back multiple times.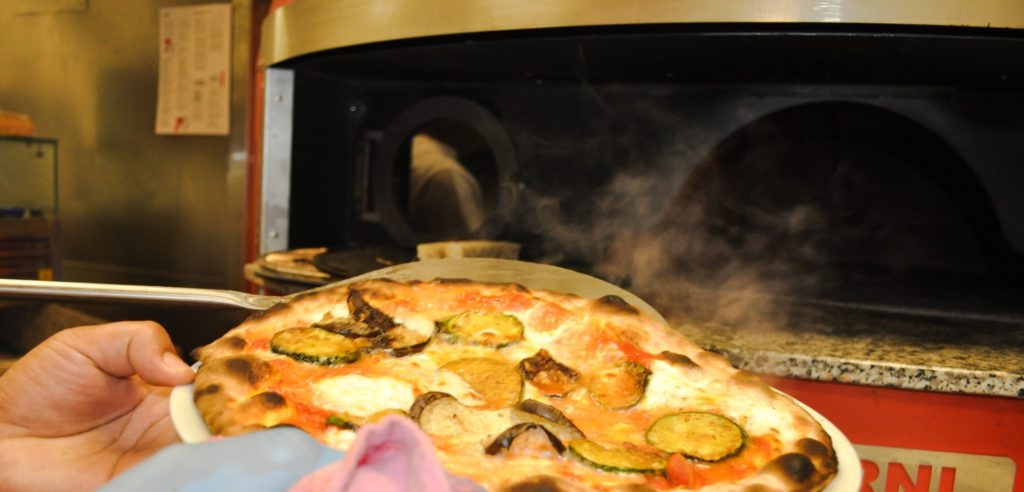 Only the Finest Ingredients, Imported from Italy
Named after Milano's patron saint of the same name, Ambrogio aims to provide diners with an elevated pizza experience. And the pizzas are clearly the main stars here, particularly with such unique and surprising offerings as the Vegano – a vegan pizza smothered in a blanket of fresh seasonal grilled organic vegetables, mixed greens and cherry tomatoes. This bursting with color dish looks more like a vibrant salad that just happens to take place atop a delicious, thin pizza crust, then it does a customary pizza.
The Hannibal Lecter meanwhile, includes Parmigiano-Reggiano cheese that's been aged for 24 months, spicy Spianata Calabra (That's salame for the uninitiated), Italian sausage, Italian porchetta (i.e. pork roast) and imported proscuitto.  (There's also a little organic grilled red bell pepper thrown into the mix, to balance out all of the fabulous Italian meat.)
Ambrogio's focaccia menu is another mouth watering read. Among the choices here is the Scrocchiarella Porchetta e Burrata – a dish that begins with crunchy focaccia bread made with whole wheat stone-ground Italian flour. The bread is filled with imported Italian porchetta, imported burrata from Puglia and some of that Parmigiano-Reggiano cheese that's been aging for 24 months.  Is your mouth watering yet?  And are you beginning to sense a pattern here among the ingredients? With the exception of the produce, nearly all items are imported from Italy.
"We want to focus on where the food comes from and telling a story," Pizzigoni explains.
That story is one of simple, high-quality ingredients. Which brings Pizzigoni to the flour at Ambrogio 15. He grows passionate and animated discussing the quality and purity of the flour at Ambrogio 15, in the same way some people light up when talking about their new car or their child.
The restaurant's Petra flour is an exclusive blend of 100 percent Italian wheat that's grown in southern Tuscany, in a medieval village, with integrated farming techniques free of pesticides and preservatives. The flour is stone pressed and incredibly high in nutrients. Pizzigoni says it contains enzymes that make it easier to digest and at the same time, it has just one-tenth of the fat found in traditional pizza dough.
"It's considered the best flour in Italy," says Pizzigoni. And the dough Ambrogio makes with this flour is the restaurant's secret. Only the three owners know the full recipe.
Other standouts on the menu include the extensive wine list, which includes offerings from several different regions of Italy including Puglia, Sicilia, Veneto and Toscana.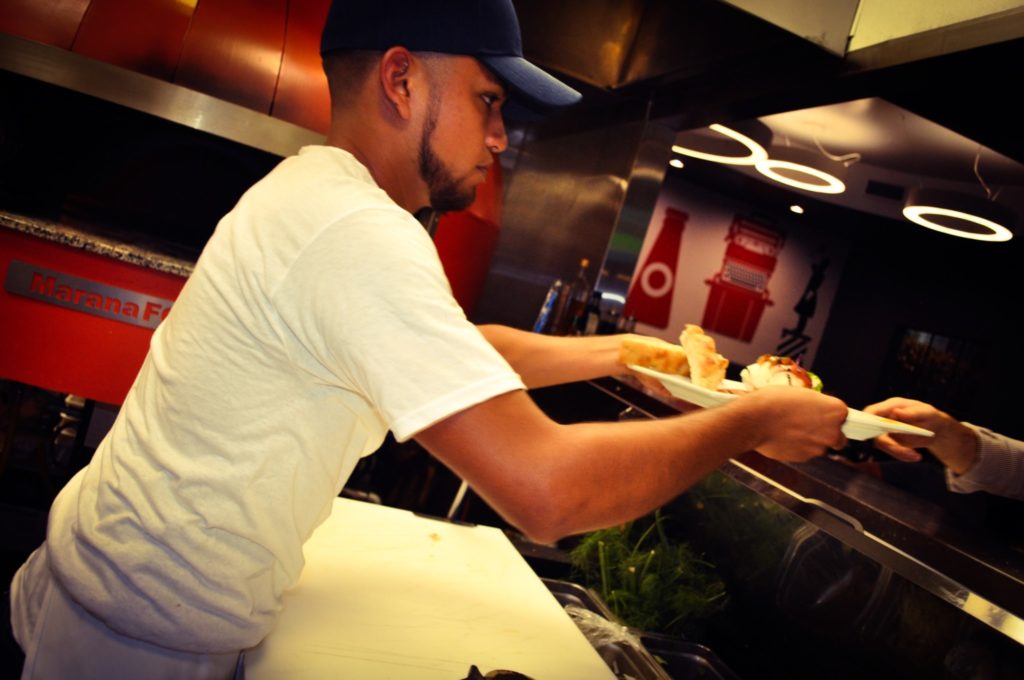 And in an offering reminiscent of my own Italian childhood, the menu includes a section devoted to just cheese and cold cut plates – allowing diners to order mortadella, porchetta, or prosciutto alongside cheeses such as asiago and gorgonzola. These sorts of tasty sampling plates are a great way to begin (or end) any Italian meal.
Early Reviews
Patrons of Ambrogio 15 have already taken to Yelp and to their own food blogs to rave about its food, the thin crust of the pizza served here, the ample selection of wines by the glass, the focaccia with burrata, the spicy salami, the fresh organic vegetables and the delicious Italian wines free of sulfates….Do you suddenly feel like you're in Italy? Because that's exactly what the owners are aiming for on every level – from their carefully selected ingredients, to their menu offerings and even the restaurant's interior design, for which they hired renowned Italian architect Roberto Giussani to create a dining ambience reminiscent of Milan.
"We are bringing 21st century Milan to San Diego," says Pizzigoni. "San Diego needs these kind of things."