By Mia Taylor
SAN DIEGO – The olives, the octopus, the mushroom "calamari," – oh my!
I've found my new happy place. It's located in the heart of San Diego's Little Italy, with a view of the harbor.
Civico 1845, one of Little Italy's newest restaurants, is simply outstanding. From start to finish our meal did not disappoint on any level.
The restaurant is owned and operated by Dario and Pietro Gallo, two brothers who were born and raised in Cosenza, Italy. The duo moved to San Diego in 2013 with the goal of opening an authentic, yet contemporary Italian restaurant featuring fresh flavors and a health-conscious menu. With Civico 1845's opening earlier this year, that goal has easily been accomplished.
Not only does the restaurant's menu include mouthwatering traditional Italian dishes, it also has an equally fabulous vegan menu. In fact it was among the vegan offerings that I found my new favorite dish – mushroom "calamari." Breaded and fried oyster mushrooms, this dish is so light you won't feel the least bit guilty about ordering a fried appetizer. It's also an incredibly refreshing, and unique take on the old standard fried calamari.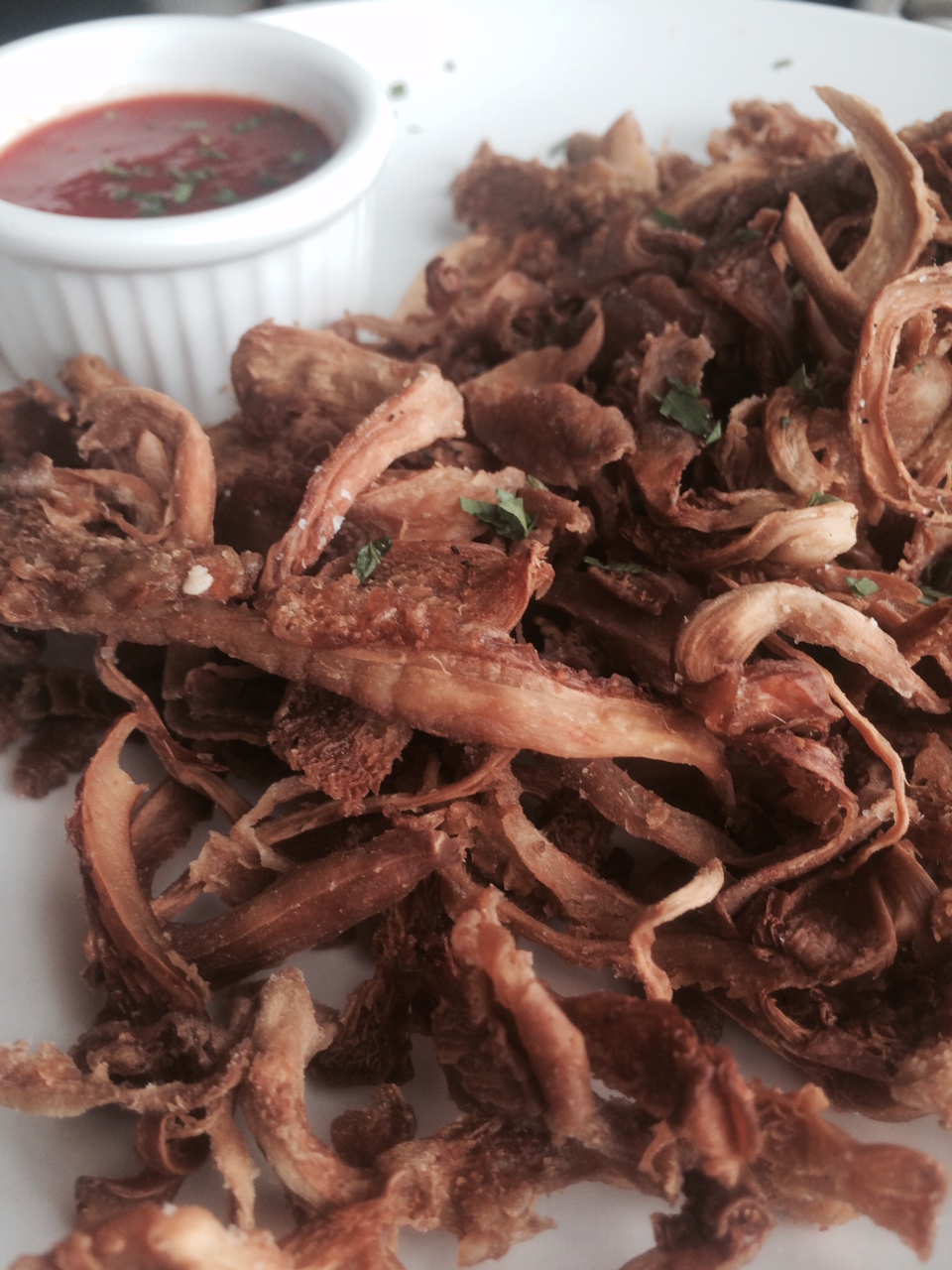 All of the food at Civico 1845 is made with fresh, locally grown ingredients and an emphasis on natural flavors and seasonal products. The menu is truly inspired and contemporary, while also being comforting and traditional. It features such unique items as Salsiccia e Friarielli – or homemade Kurobuta pork sausage served with rapini, garlic and calabrian chili pepper, as well as comfort food like Pappardelle Brasato, a dish that involves braised short rib ragu, herbs and Parmigiano Reggiano.
The vegan menu is also equally compelling, with vegan raviolis that are made with spinach, ricotta and san marzano sauce, or lasagna made with Seitan ragout, béchamel, mozzarella and vegan parmigiano.
"The key to good Italian cuisine is fresh ingredients and proper technique to bring out the natural flavors of those ingredients," says Owner Pietro Gallo, who serves as kitchen manager. "Our mother used to cook tomatoes for three hours to get the taste just right. That's the standard we desire to live up to."
It was Pietro's own vegan lifestyle and passion for healthy eating that inspired the restaurant's unique menu. In addition to offering several 100 percent vegan dishes, Civico 1845 also serves some gluten-free options – a rarity among Italian restaurants.
The restaurant's head chef meanwhile, Alfonso Pisacane, comes from a long line of Italian chefs. His family has owned and operated Le Tre Sorelle, a traditional Italian restaurant located in the beach community of Positano, Italy, for more than three generations. Pisacane spent the last 10 years making a name for himself in the North County San Diego, Orange County and Los Angeles dining communities.
Between the Gallo's health conscious focus and Pisacane's years of experience with Italian food, Civico 1845 seems to have established a winning formula.
Another must try dish is the Piatto del Nostromo. A lightly marinated antipasti made of octopus, calamari and curly frisee, sundried tomatoes and fingerling potatoes, it too is expertly prepared. So many times I've ordered octopus at restaurants only to be disappointed by it being overly chewy or tough. But at Civico 1845 the experience couldn't have been more different. From the first bite I was shocked at the tenderness of the octopus.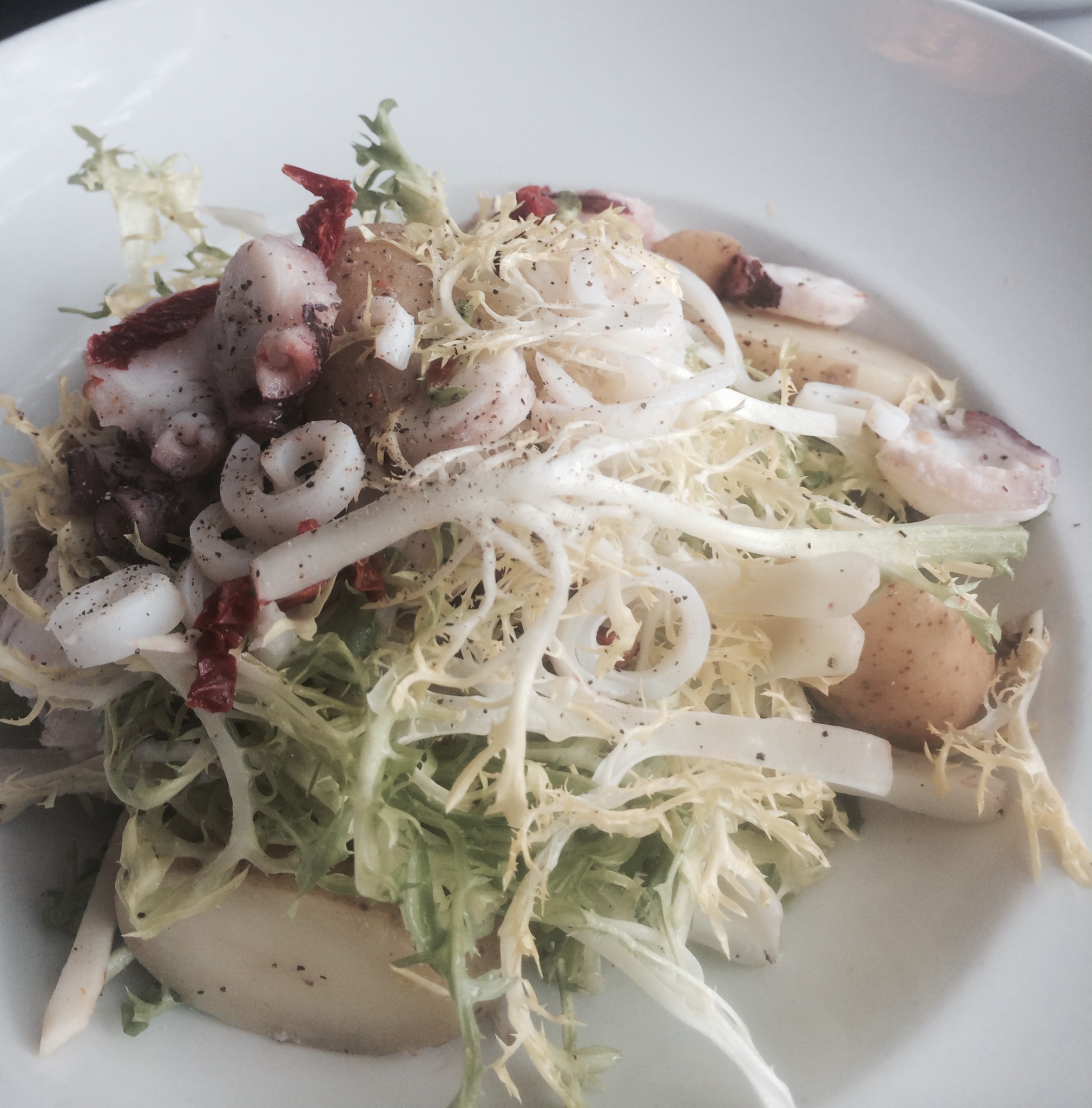 For my entrée I ordered the scallops, which were served with Meyer lemon and black garlic gnocchi. Once again, I was pleasantly surprised by the talented preparation of the dish. The gnocchi was incredibly light and tender. Yet another stark contrast to previous dining experiences where gnocchi is often heavy and leaves you feeling like you've eaten too much. This gnocchi left me wanting more. The scallops were an excellent compliment, light as air and perfectly cooked.
A few final comments about Civico 1845.
First, the lovely décor, which is as refreshing as the menu. The restaurant's 1,500-square-foot space decorated in whites and grays, with ample sunlight pouring in through large windows. It looks and feels like a stylish cross between a small boutique hotel and the shabby chic décor so famously promoted by Rachel Ashwell.
For those who know Little Italy well, you will remember when this location was home to Zia's Bistro, which had a much darker, heavier look and feel.
Civico 1845's interior designer, Agostino Sannino, redesigned the space to be light, bright and sustainable at every turn. Reclaimed materials are used throughout the restaurant's design, and Sannino incorporated inspiration from Italian midcentury artist Lucio Fontana to create an art installation featuring vintage Italian kitchen items over the restaurant's back wall.
Finally, Civico 1845 has a great perch on India Street, with giant windows to people watch the crowds in Little Italy. Even more importantly, some tables have a view of San Diego's harbor. The result? A great meal and a great view.